Understanding Hybrid Events: Strategies, Benefits, and the Push for Sustainability
What is a hybrid event?
In today's rapidly evolving digital landscape, the term hybrid event has become synonymous with innovation and adaptability.
At its core, a hybrid event seamlessly blends the traditional tactile experiences of in-person gatherings with the convenience and reach of virtual engagements. This innovative model offers attendees the flexibility to engage and participate at a physical location and remotely via digital platforms, ensuring an encompassing experience.
Moreover, by reducing the need for extensive travel and the use of vast physical resources; hybrid events contribute to sustainability efforts, aligning with global initiatives to decrease carbon footprints and promote eco-friendly practices.
In today's rapidly evolving digital landscape, the term hybrid event has become synonymous with innovation and adaptability.
At its core, a hybrid event seamlessly blends the traditional tactile experiences of in-person gatherings with the convenience and reach of virtual engagements. This innovative model offers attendees the flexibility to engage and participate at a physical location and remotely via digital platforms, ensuring an encompassing experience.
Moreover, by reducing the need for extensive travel and the use of vast physical resources; hybrid events contribute to sustainability efforts, aligning with global initiatives to decrease carbon footprints and promote eco-friendly practices.
How does a hybrid event work?
To distinguish a standard gathering from a hybrid event is in its multi-faceted approach. There are several fundamental components of a hybrid event and that include:
1. Physical Venue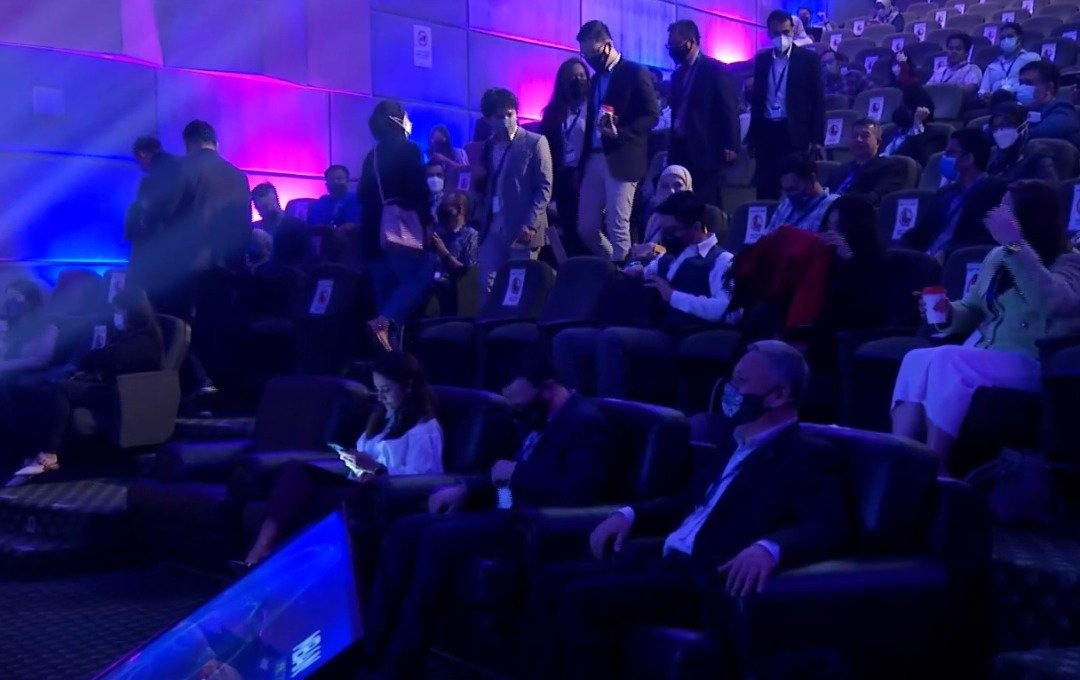 This is the brick-and-mortar location where the event is physically held. It's the epicentre of live interactions, where speakers are physically present, exhibitors showcase, and a portion of online attendees engage in on-demand content in real-time.
2. Virtual Event Platform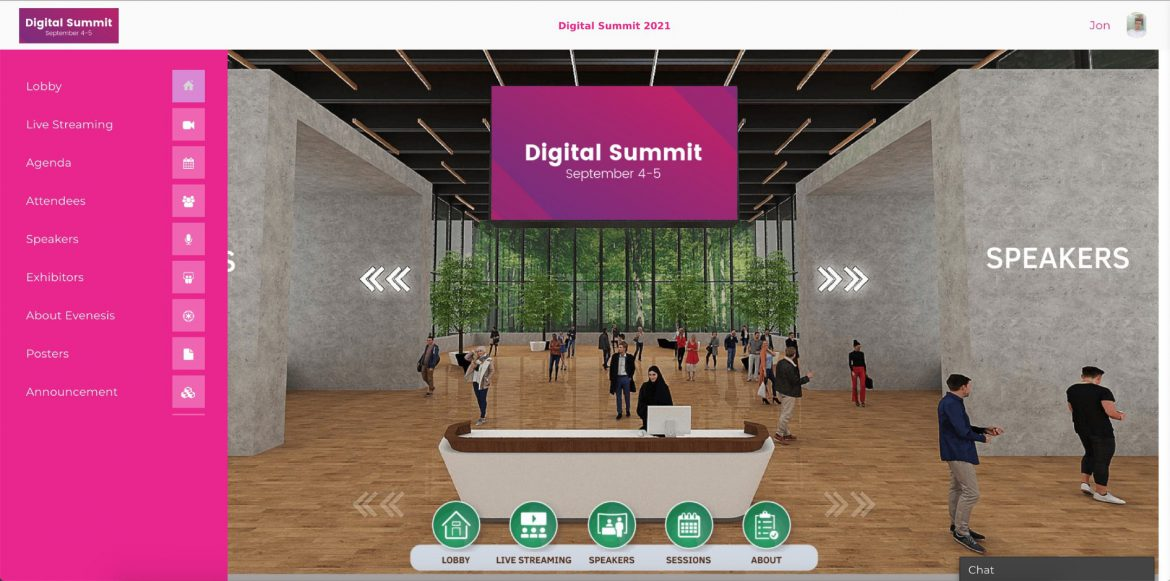 On the digital frontier, this platform acts as the conduit for remote participation. Advanced virtual event platforms, fueled by technologies such as live streaming, chat mechanisms, virtual exhibition booths, virtual space, and interactive sessions, allow for an immersive experience that closely mirrors the physical counterpart.
3. Interactive Features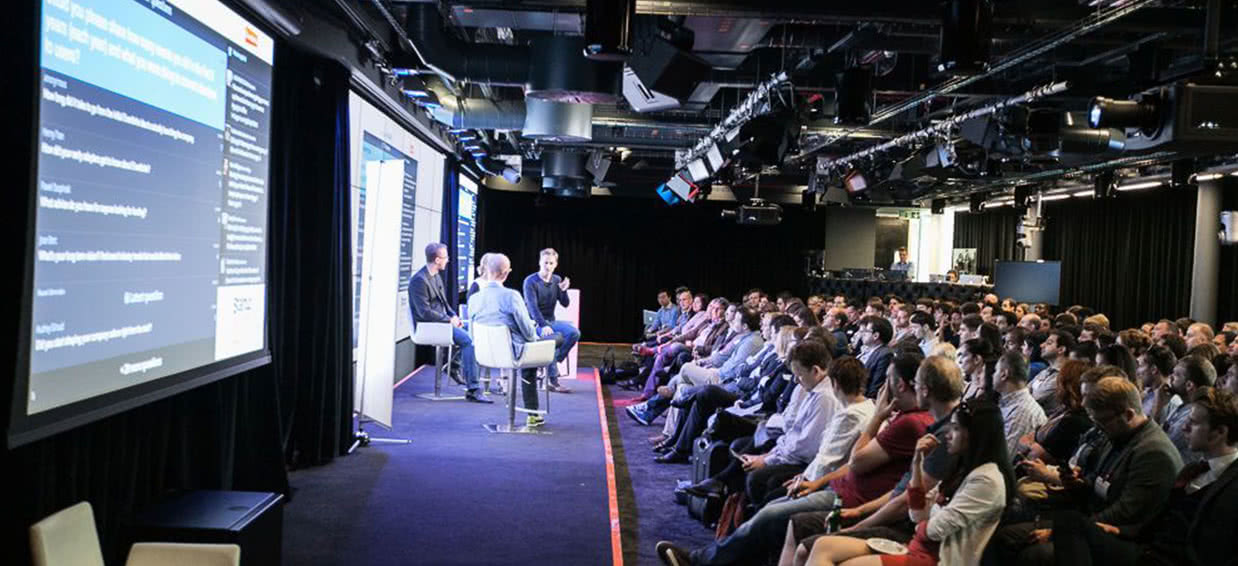 To ensure that the hybrid event doesn't alienate its virtual audience, interactive features play a pivotal role.
These tools, including polls, Q&A sessions, and digital networking rooms, ensure that both physical and virtual attendees shift from passive observers to active contributors.
Brief history and evolution of hybrid events
Transition From

In-Person

to Virtual to Hybrid
The world of events has seen a revolutionary shift over the past few decades; marked by significant milestones and the introduction of transformative technologies. Traditional events, characterised by their in-person nature, were once the standard.
With the introduction of smartphones and faster mobile data in the late 2000s, virtual events began gaining traction and the nature of engagement further evolved. Attendees no longer needed a computer; events were now accessible in the palm of their hands.
However, the true turning point came with the rapid increase of augmented reality (AR) and virtual reality (VR) technologies in the 2010s. These offered immersive experiences, bridging the sensory gap that pure virtual events sometimes faced.
But neither the traditional nor the purely virtual model was flawless. There was a demand for a middle ground. Enter the hybrid event—an innovative model marrying the best attributes of its predecessors.
With the advantages of high-speed internet, the capabilities of AR and VR, and sophisticated platforms that allow for simultaneous streaming and interaction, hybrid events began offering unparalleled reach and engagement. They symbolise the evolution of events, adapting to technological advancements and changing audience preferences.
Factors Driving The Change
Technological Advancements
With tech giants continually pushing the envelope, the capabilities of modern technology to support vast audiences in a virtual landscape have expanded exponentially.
Rise of virtual platforms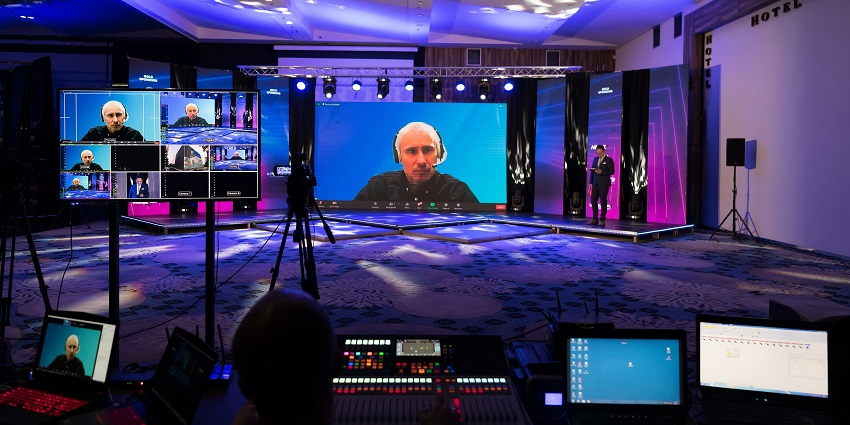 As demand surged, so did supply. Today's market boasts a myriad of sophisticated platforms tailored for hybrid events, each offering a unique set of features to enhance user experience.
From immersive virtual environments to AI-powered networking tools, the capabilities of these platforms have drastically expanded the horizons of what event organisers can achieve.
Among these trailblazing platforms is Evenesis, which stands out with its comprehensive suite of features designed for both in-person and virtual engagement. Evenesis not only facilitates seamless interactions but also sets the gold standard in hybrid event execution, showcasing how technology can truly revolutionise the way we connect, engage, and share experiences.
The world of Augmented and Virtual Reality (AR and VR) is no longer the stuff of science fiction. Their application in hybrid events has led to breathtakingly immersive experiences, bridging the sensory gap between virtual and physical.
Attendees can don a headset and suddenly find themselves in a meticulously crafted virtual venue, or a futuristic conference hall, all while interacting with other attendees' avatars in real time. These innovations not only elevate the user experience but also redefine the boundaries of what's possible in hybrid event engagement.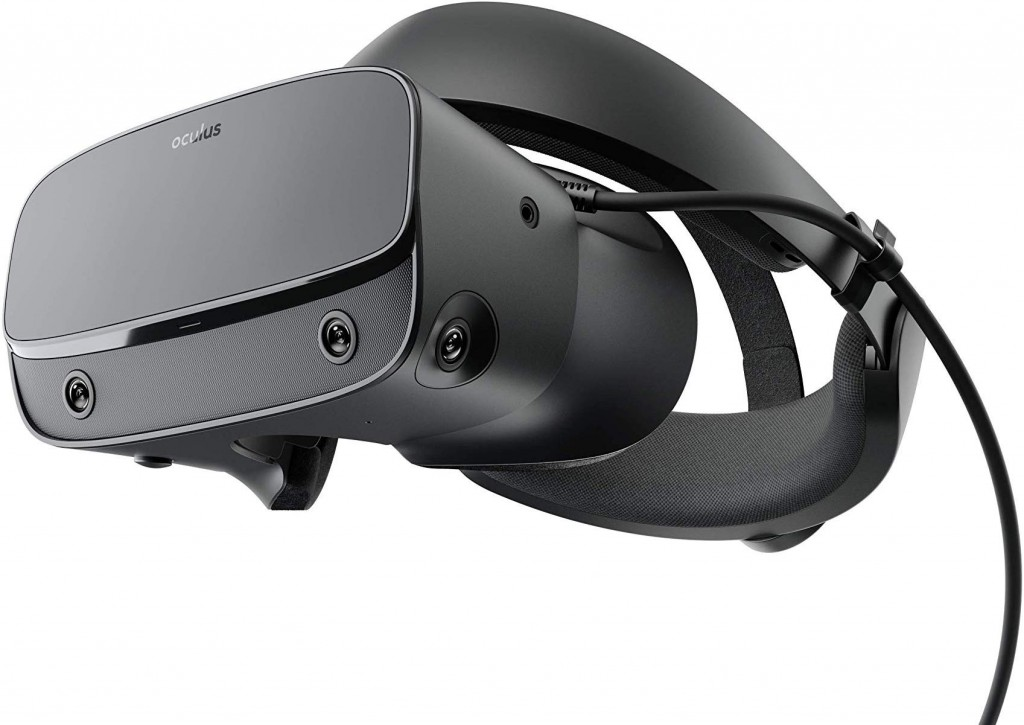 The backbone of any successful virtual or hybrid event is robust internet connectivity. With high-speed internet becoming commonplace worldwide, the scope and quality of these events have seen monumental boosts.
Changing Audience Preference
In today's rapidly evolving digital world, audience expectations and preferences are shifting, compelling event organisers to adapt and innovate.
The demand for flexibility
With the growth of remote work and a demand for flexibility due to the effects of the COVID-19 pandemic, there has also been a growing demand for events that fit into varied schedules.
Gone are the days when attendees would block out days solely for an event. Event attendees now seek the flexibility to choose which sessions to attend live and which to catch up on later.
Global reach and inclusivity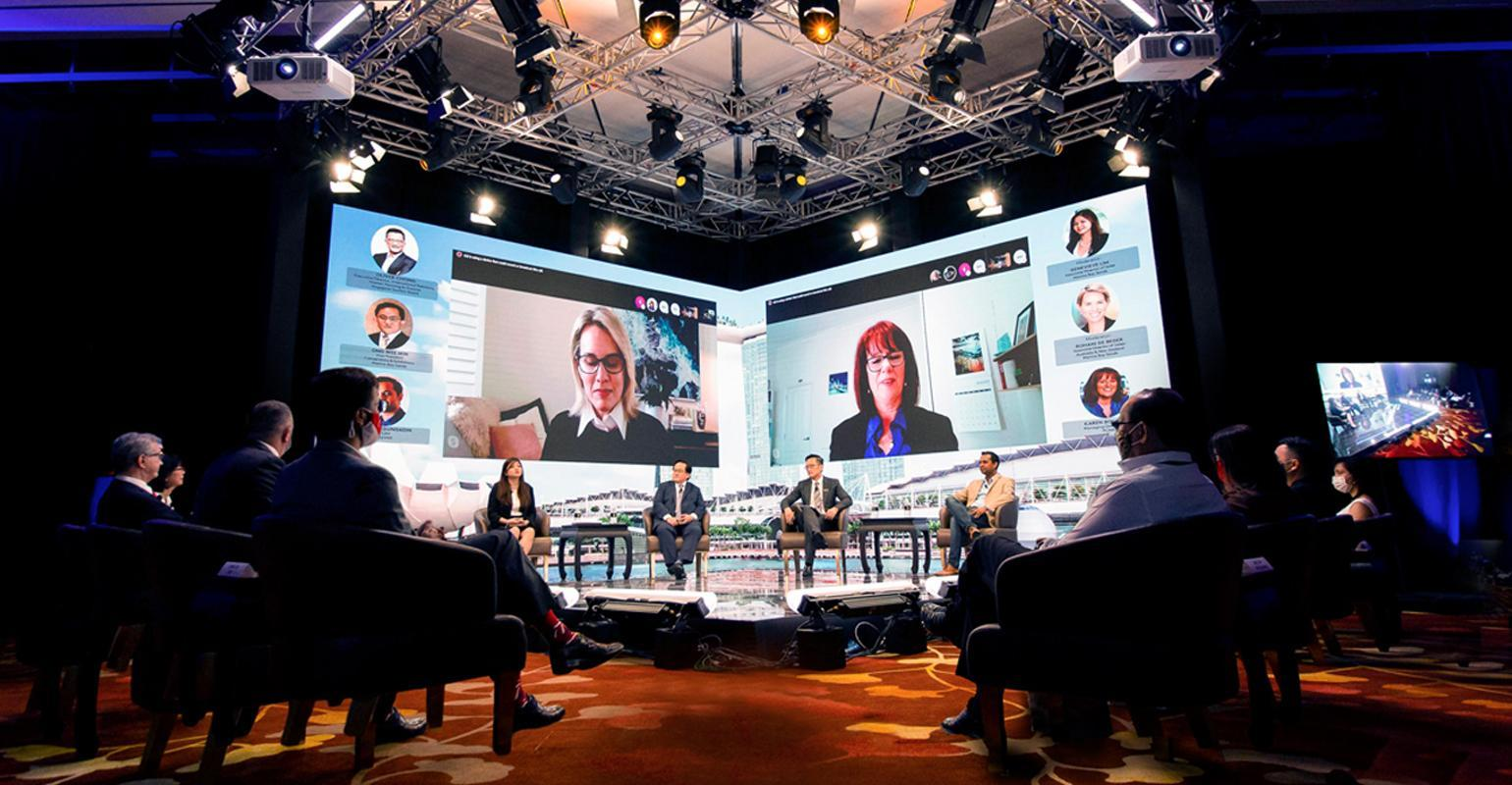 Hybrid events democratise access. They are not bound by geographical or physical limitations, allowing event attendees from different corners of the globe to participate.
This global reach introduces diverse perspectives, enriching discussions and broadening the horizons of local attendees. It's not just about geography; hybrid events also cater to those with physical disabilities, offering them an inclusive space to engage and learn.
Environmental Concerns
As climate change becomes an inescapable reality, the focus on sustainability is intensifying across industries, and the events space is no exception.
The push for sustainability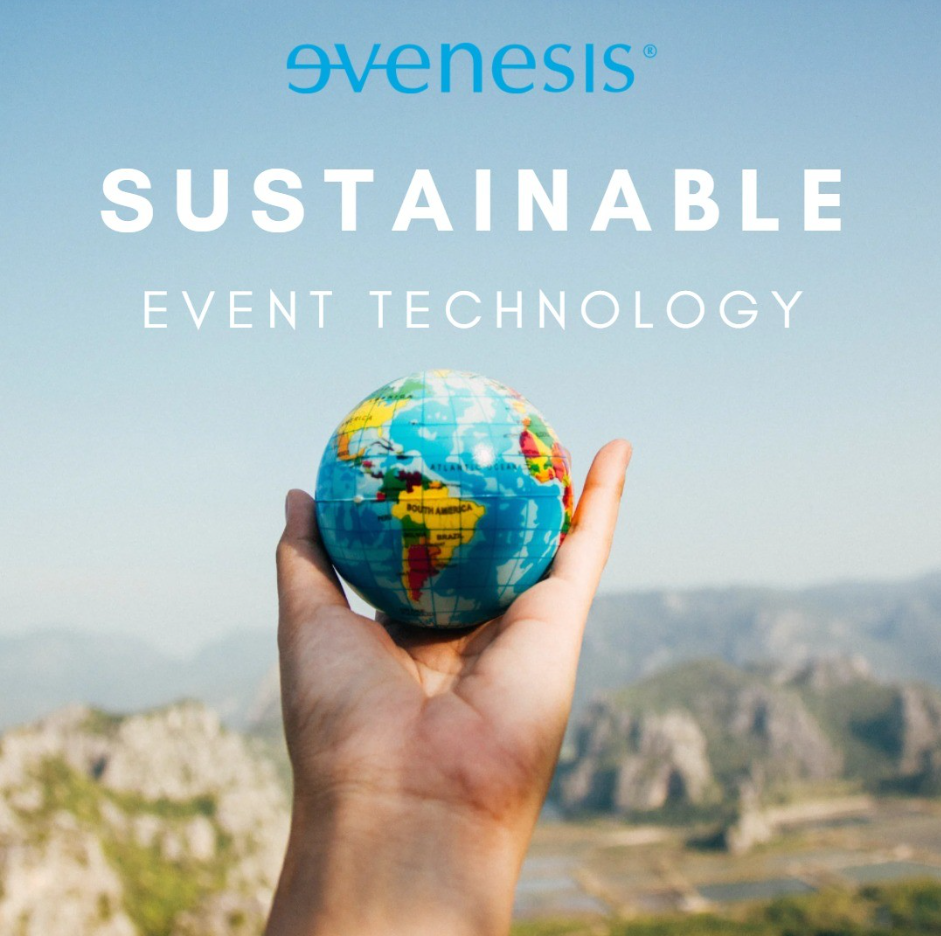 Hybrid events, by virtue of their format, champion sustainability. With a surge in virtual attendees, there's been a shift towards digital goodie bags, online brochures, and virtual handouts.
Embracing digital goodie bags, online brochures, and virtual handouts caters to the increased virtual audience and eliminates the wastage commonly associated with unused physical materials. Moreover, this digital transition saves vast quantities of paper, directly contributing to environmental conservation by minimising deforestation and the energy-intensive processes associated with paper production.
Carbon footprint reduction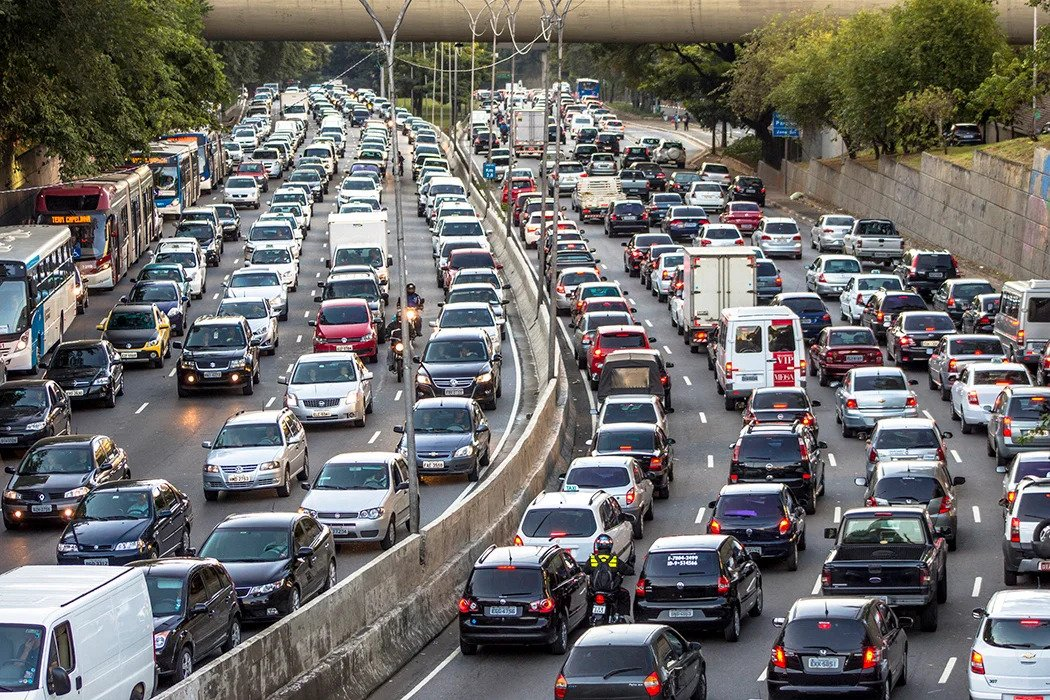 The transportation sector is one of the largest contributors to global CO2 emissions. The fewer people travel to events, the lesser the carbon footprint. Consider a global conference with attendees from 50 countries. Transitioning to a hybrid model could result in thousands of fewer flights, translating to a significant reduction in CO2 emissions.
The evolution of the modern event landscape
As businesses aim to project a green image, their events must reflect the same values. By promoting and hosting hybrid events, organisations not only reduce their carbon footprint but also position themselves as forward-thinking and environmentally responsible.
Pandemic-Induced Shifts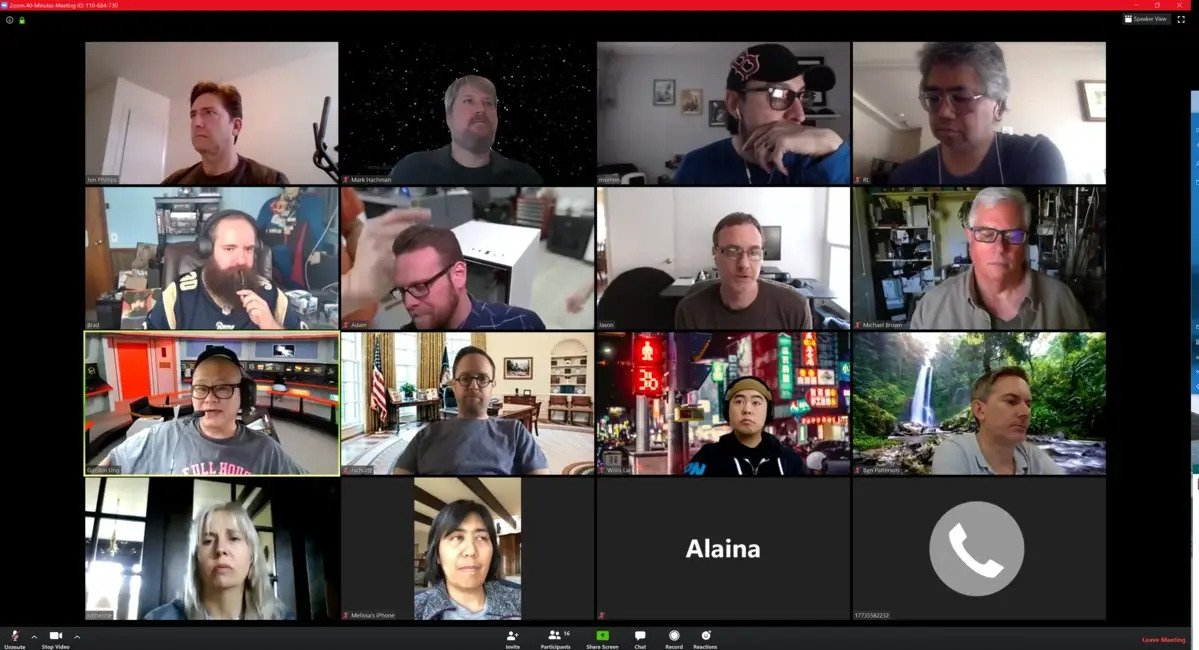 The COVID-19 pandemic was an inflection point, altering how we approach gatherings and events.
With global lockdowns and severe restrictions on in-person gatherings, the events industry had to pivot quickly. Virtual events became the norm, with platforms like Zoom, and Google Meet witnessing unprecedented usage.
As restrictions eased, the transition from solely virtual to hybrid became apparent. Businesses realised that even post-pandemic, the hybrid model had enduring advantages.
Benefits of hybrid events
The modern era of event planning has ushered in a focus on hybrid events, and it's not without reason. Hybrid events blend the traditional in-person experience with the digital realm, enabling a wider reach and enhanced engagement opportunities. Here's a closer look at the manifold benefits of these events:
1. Sustainable Engagement
Hybrid events are at the forefront of sustainable engagement. By facilitating both on-site and virtual participation, they provide attendees with flexible options to engage, ensuring inclusivity without compromising on environmental consciousness.
The power of technology and innovative event platforms means attendees can enjoy the event experience without unnecessary travel or resource consumption.
2. Eco-friendly Branding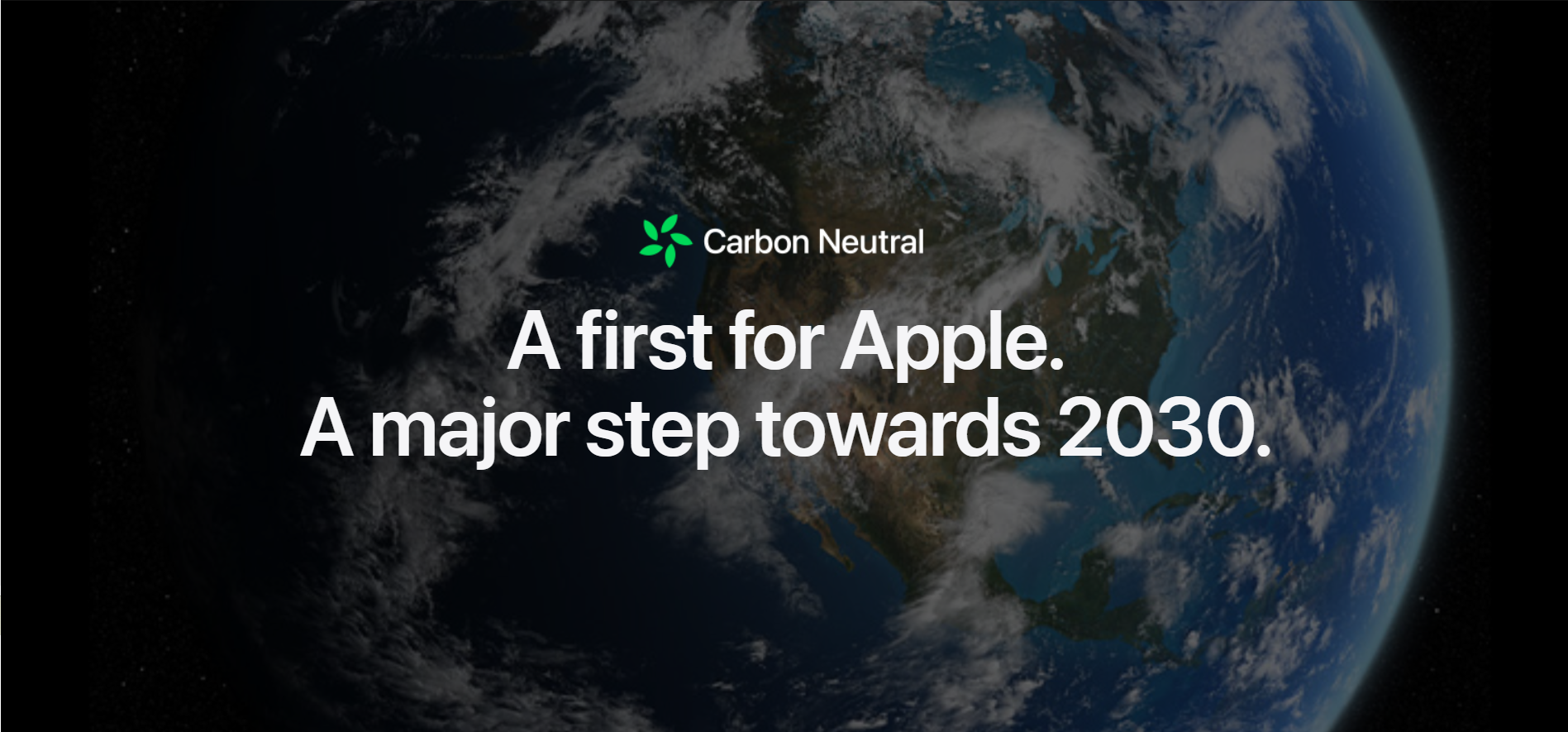 In the age of environmental awareness, the way an organisation presents itself can make all the difference. Hosting a hybrid event isn't just a logistical decision—it's a branding statement.
By opting for this format, organisations send a powerful message about their commitment to sustainability. This eco-friendly approach positions the hosting brand as forward-thinking, aligning with the values of an increasingly eco-conscious global community and adding an invaluable facet to the brand's image.
3. Lower Carbon Footprint
One of the most tangible benefits of hybrid events is the significant reduction in carbon emissions. Traditional events, with attendees travelling from various parts of the globe, come with a heavy carbon footprint due to transportation.
Hybrid events, on the other hand, dramatically cut down on this by accommodating a significant portion of attendees virtually. This not only reduces the direct carbon emissions from travel but also plays a pivotal role in the global quest for sustainability, setting a precedent for other industries to follow.
4.

Accessibility, Inclusivity, and Flexibility
One of the most lauded attributes of hybrid events is their inherent inclusivity. Geography no longer poses a barrier; participants from around the world can partake with ease. Such hybrid events provide not only engage a local audience but also extend their reach to a global demographic. This inclusivity fosters diversity, bringing a rich tapestry of perspectives and insights. Moreover, attendees are bestowed with unparalleled flexibility—choosing between in-person interactions or virtual participation, all while accessing a plethora of content delivery modes.
5.

Operational Efficiency and Cost-Effectiveness
Hybrid events, in marrying the virtual and physical aspects of event management, offer a unique proposition to organisers – a blend of expansive reach and fiscal responsibility.
6.

Reduced Operational Costs
While hybrid events do require investment in technology and online platforms, they can lead to significant savings in other areas. Venues can be smaller, catering can be limited, and there's less physical infrastructure to manage.
7. Enhanced Data Collection Capabilities
One of the underestimated benefits of hybrid events is the data they generate. Every click, every session attended, and every poll answered in the virtual realm provides event organizers with valuable insights. Traditional events rarely offered such granular data. By analyzing this data, businesses can understand their audience better, refine their marketing strategies, and design even more engaging future events.
Challenges of hybrid events
As revolutionary and beneficial as hybrid events are, they come with their unique set of challenges. Addressing these proactively ensures that event organisers can maximise their hybrid event platform's impact while minimising potential pitfalls. Let's delve deeper into some of these challenges:
1.

Technical Difficulties
The realm of digital interactions is susceptible to technological hiccups. Streaming issues, platform compatibility concerns, and connectivity interruptions can mar the experience for virtual attendees. It becomes imperative for event organisers to invest in reliable infrastructure and have contingencies in place.
2.

Engaging Dual Audiences
Straddling between in-person and virtual attendees can be a daunting balancing act. Each audience type has its engagement dynamics, and ensuring neither feels sidelined requires meticulous planning and execution.
3.

Cost Implications
While hybrid events can be cost-effective, the upfront investment in technology might be substantial. Additionally, hosting physical and virtual components concurrently may strain the budget, necessitating prudent financial planning.
4.

Content Duplication
With two distinct audiences to cater to, there's a risk of content repetition. Striking the right balance to ensure content remains fresh and engaging for both groups is crucial.
5.

Time Zone Differences
Global participation is a double-edged sword. While it widens the audience pool, it also introduces the challenge of accommodating remote attendees in varying time zones. Live sessions need to be timed judiciously to ensure maximum participation.
How to design and plan a successful hybrid event
Hybrid events, a blend of in-person and virtual experiences, have redefined the event industry. To ensure the success of such events, meticulous planning, and design are crucial. Here's a comprehensive guide to navigating this process:
Step 1:

Stakeholder Identification
Every successful event rests on the foundation of clear roles and responsibilities. Identifying stakeholders, from sponsors to partners, sets the groundwork. Ensuring everyone is aligned in their roles and objectives is critical to seamless execution.
Step 2: Setting Event Objectives and Goals
An event without a clear direction is akin to a ship without a compass. Define the metrics of success early on. Whether it's audience engagement, lead generation, or brand awareness, having clear-cut goals steers the event's trajectory.
Step 3: Budget Allocation and Resources Planning
Financial foresight is paramount. Allocate resources judiciously, keeping in mind both the physical and virtual components. Always have a contingency fund for unforeseen technical challenges.
Step 4: Set

Duration, Date, and Time
While deciding on the event's duration, consider the stamina of both in-person and virtual attendees. Factor in time zones if targeting a global audience and ensure there's no overlap with other industry events.
Event format and content
Content Planning
A successful hybrid event tells a story, one that resonates with its audience regardless of their mode of participation. Crafting this narrative requires careful content curation. Consider what topics or issues will appeal to your target audience. Using the insights derived from this, build sessions that resonate and spark interest.
Remember, hybrid events allow for diverse content delivery—from keynotes to interactive workshops. Harness this flexibility to craft a memorable hybrid event planning and narrative.
Agenda Structure
An agenda is more than just a timetable; it's the blueprint of the event. Laying out the flow, timing, and key sessions helps attendees plan their participation. Ensure that there's a balanced mix of sessions catering to both on-site and virtual participants. Intersperse heavy content sessions with interactive breaks to maintain engagement and energy levels.
Building Engaging Agendas for All Audience
The power of a hybrid event lies in its ability to cater to diverse audiences. It's crucial to tailor content to resonate with varied attendees. This involves mixing traditional sessions with interactive ones, ensuring that all participants, whether in-person or online, remain engaged. Innovative approaches like live Q&A sessions or even breakout sessions and discussions can elevate the virtual attendee experience.
Speaker Recruitment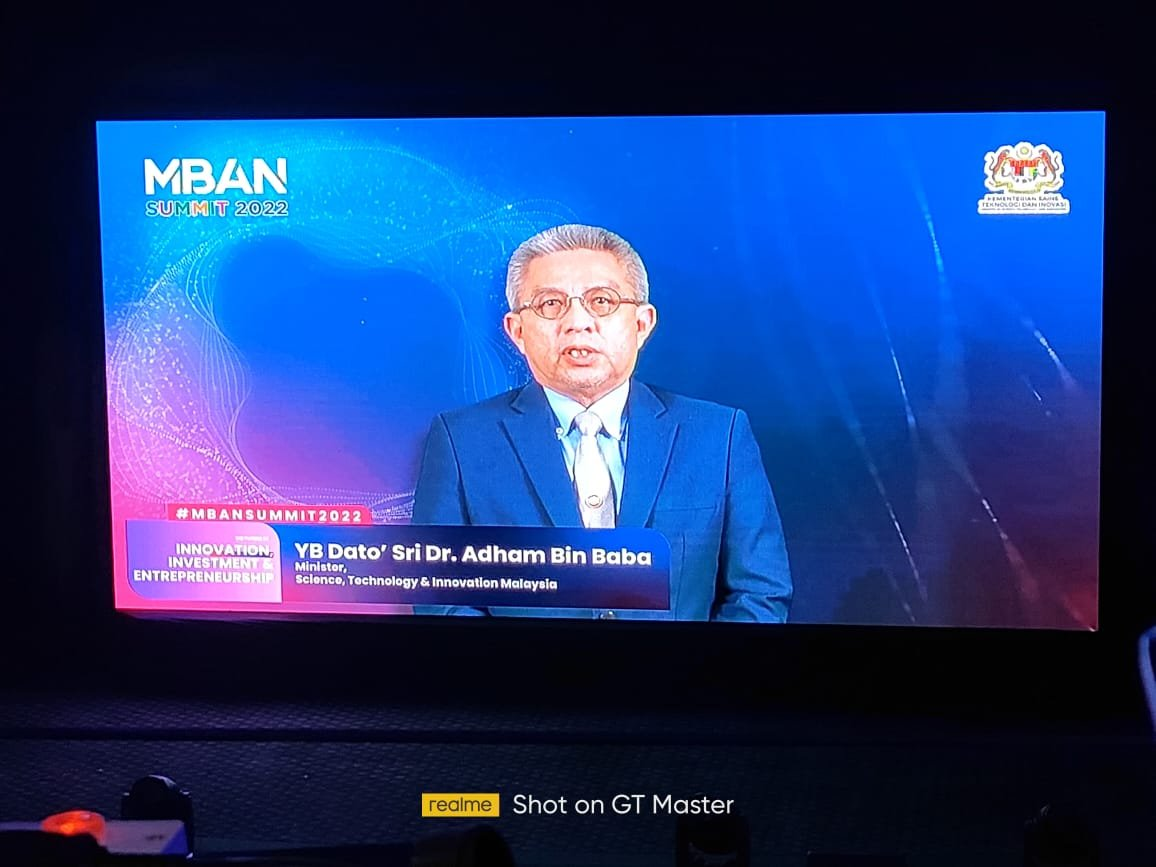 The choice of speakers can make or break an event. Identify industry experts, thought leaders, and influential personalities who not only bring credibility but also are adept at engaging both in-person and online audiences. Equally ensuring these speakers are comfortable with the technical aspects of virtual presentations.
Content Format
This is all about building anticipation. Using short promotional videos, infographics, or even interviews with key speakers can get attendees excited about what's to come. For virtual attendees, sending out interactive e-invites or gamified content can make them feel involved right from the start.
These are particularly suited for in-depth exploration of topics. They allow focused presentations, often accompanied by slides or other visual aids, with the option for audience Q&A towards the end. For hybrid events, ensure that the webinar platform integrates well with the main event platform to provide a seamless experience.
Panel discussions bring multiple experts together to discuss a topic from various angles. This format is excellent for fostering dialogues and showing different perspectives. When broadcasting a panel discussion to a virtual audience, it's essential to have good audio quality and clear visuals of each panellist.
For on-site attendees, this could be in the form of coffee breaks or dedicated networking zones. For virtual attendees, consider "speed networking" sessions using breakout rooms or platforms that randomly match attendees for short chats.
Engagement is crucial, especially for virtual attendees who might be prone to distractions. Incorporate polls, quizzes, and live Q&A segments to keep everyone involved. For on-site attendees, integrate tech solutions like audience response systems or apps that allow them to participate in real time.
With the vast array of content, not everything will be relevant to every attendee. Use audience segmentation to direct attendees to sessions most relevant to them. This can be done through personalised schedules or tracks based on interest or industry.
Physical event components
Venue Selection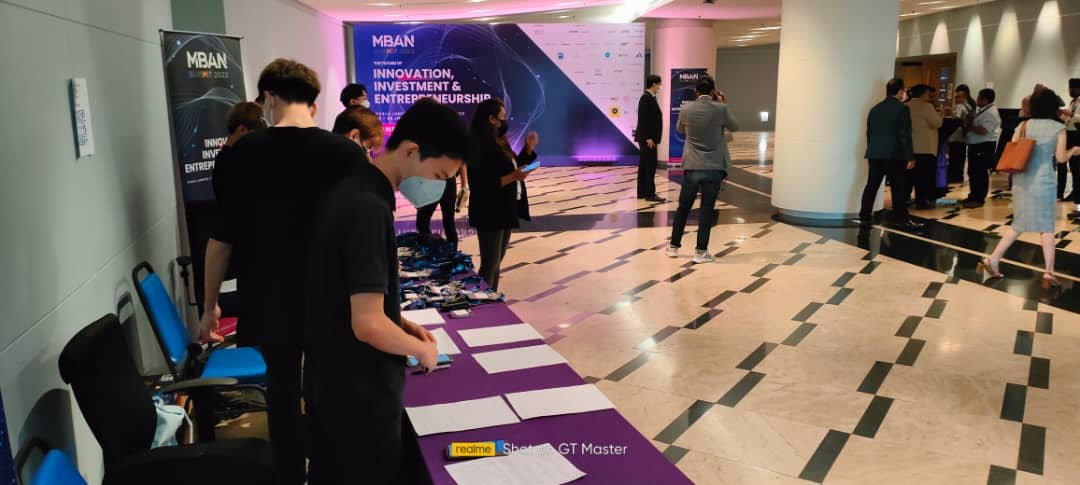 The choice of venue goes beyond aesthetics or capacity. A hybrid event venue must have top-notch Internet connectivity. It's imperative to avoid technical glitches that can disrupt the virtual component. Additionally, the venue should be equipped to accommodate AV setups and other tech requirements.
Tech Setup and Troubleshooting
Advance preparation is key. Ensuring all tech components, from cameras to microphones, are in working order before the event is vital. Having a dedicated tech team on standby can swiftly address any glitches, ensuring a smooth experience for all participants.
Prepare Event Material
The tactile feel of physical goodies, brochures, or badges enhances the on-site experience. When producing these, consider eco-friendly options. Aside from that, you could also opt for digitalising the event materials for a more sustainable touch.
For example, you could prepare digital goodie bags, interactive or downloadable brochures, and digital badges for your attendees. Not only does this reduce environmental impact, but it also positions the event as sustainable.
Digital experience design
The virtual facet of hybrid events demands equal attention.
Choosing the Right Platforms and Technology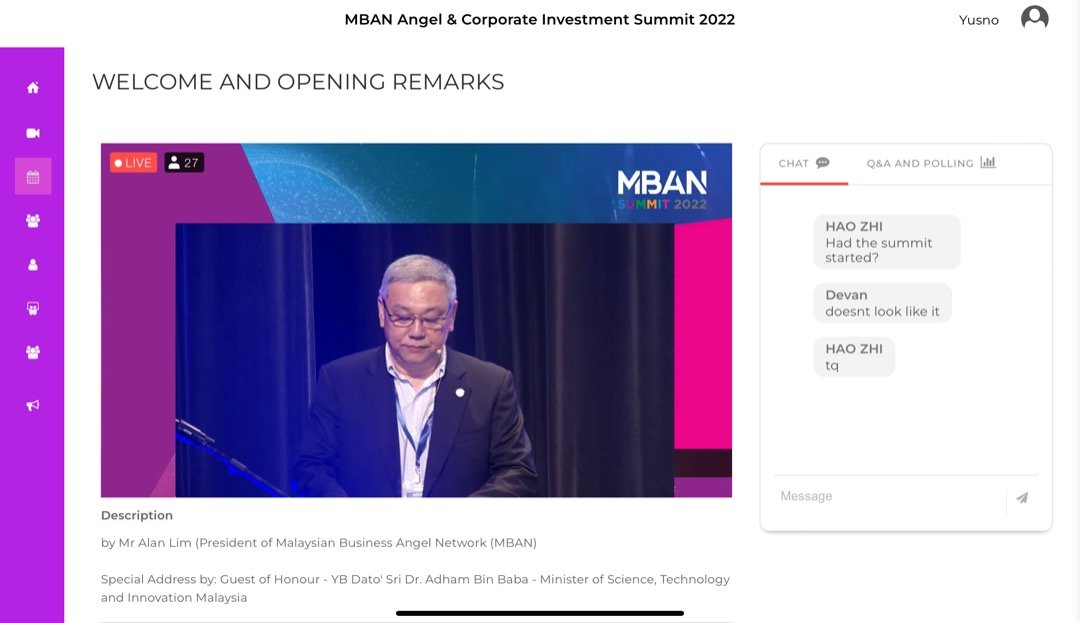 An event's success hinges on its platform's reliability. Assess various virtual event platforms for their user-friendliness, features, and global accessibility. Moreover, platforms capable of managing different time zones effectively should be given preference.
Enhancing Virtual Participation
The bedrock of successful virtual participation is robust engagement. In today's digital era, simply broadcasting content to onsite attendees isn't sufficient. Attendees crave interactivity that mirrors the energy and spontaneity of in-person events. With Evenesis' live Q&A & polling, you can achieve:
Active Engagement Throughout the Event with Evenesis
Evenesis' live Q&A poll ensures this by allowing attendees to be part of the conversation. By submitting questions in real time, participants feel more connected and involved, transforming the event into a dynamic dialogue rather than a monologue.
Anonymity Encourages Participation
One of the standout features of Evenesis' tool is the option for attendees to submit questions anonymously. This is especially valuable as it encourages participation from those who might hesitate to ask questions due to privacy concerns or shyness.
Instant Feedback with Real-time Polling
Traditional feedback methods like post-event surveys or feedback forms have their place. Still, with Evenesis' real-time polling, you tap into the pulse of your audience immediately. This instant feedback allows event organisers to gauge the effectiveness of sessions, adjust the event flow if needed, and gain insights into areas of interest.
One of the significant challenges with integrating digital tools is ensuring ease of use. With Evenesis, this concern is mitigated. Their live Q&A polling tool works seamlessly on any device, be it a smartphone, tablet, or laptop.
Networking in a Virtual Environment
The challenge with virtual events is replicating the spontaneity of in-person networking opportunities. Overcome this by using dedicated networking tools, breakout rooms, or even virtual "coffee breaks" that allow attendees to mingle.
Seamless Connectivity and Streaming Quality
The success of a hybrid event hinges on its virtual component's ability to deliver content without hitches. In today's digital era, participants expect smooth streaming, sharp visuals, and clear audio. It's imperative to ensure that technological glitches don't hinder their experience.
Partnering with a reliable Internet Service Provider (ISP) guarantees that your event isn't hampered by bandwidth limitations or network interruptions.
Reliability is the keyword when it comes to streaming quality. Having backup options in place is crucial. Here's a breakdown:
It's a good practice to have a secondary ISP in standby mode. In case your primary provider faces downtime, the secondary one can take over, ensuring continuous streaming.
Portable Wi-Fi hotspots can act as lifesavers in emergencies. They provide an alternative internet source, and with the rollout of 5G networks, their speeds can rival traditional broadband connections.
While wireless connections have their advantages, a wired LAN setup can offer a more stable connection. Having a LAN backup can help in instances where wireless networks falter.
It's essential to simulate the actual event conditions to identify potential hiccups. By conducting a pre-event technical rehearsal, you can:
Test the streaming quality at different resolutions and bandwidths to determine optimal settings.
Check for potential interference or challenges in the venue, especially if there are multiple parallel sessions.
Train the team on quick-switch procedures between primary and backup systems to ensure smooth transitions in case of disruptions.
Audio-visual requirements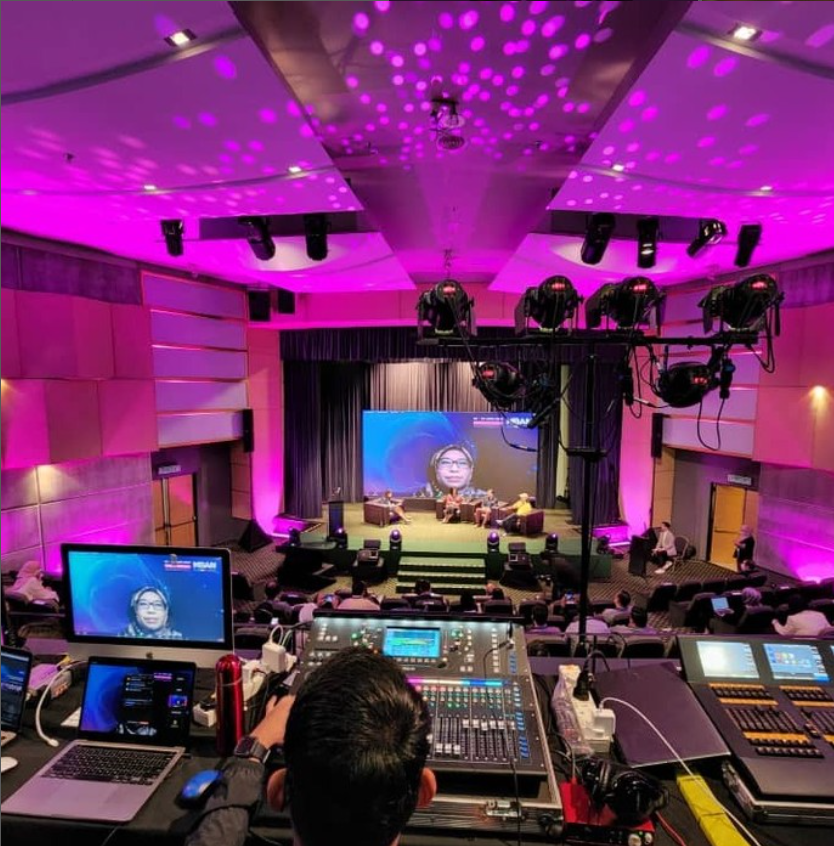 The importance of comprehensive and state-of-the-art audio-visual (AV) components in a hybrid event cannot be overstated. Balancing the needs of both in-person and virtual attendees requires a unique set of equipment, software, and expertise.
Catering to Both In-Person and Virtual Audiences
The simultaneous needs of physical and online participants introduce layers of complexity. While in-venue attendees might experience the event with the ambience of surround sound and the visuals of projectors or LED screens, the online crowd depends entirely on streamed content.
Ensuring that both of these diverse audiences receive clear, synchronised, and high-quality AV content is paramount. For example, while an in-person participant might be able to hear a speaker even with a minor microphone glitch, such a hiccup can cause significant disruptions for a virtual attendee.
Investment in High-Quality Equipment
Given the dual nature of hybrid events, it's non-negotiable to invest in the best AV equipment. This includes high-definition cameras that can capture speakers and pan across venues, top-tier microphones that minimise background noise, and sound systems that deliver crystal-clear audio. Importantly, these pieces of equipment must be compatible with virtual platforms to ensure seamless streaming.
Backup Systems
The dynamic nature of hybrid events necessitates contingency planning, especially in the realm of AV. From backup microphones to standby cameras and secondary streaming setups, having redundancy measures in place ensures that technical glitches don't disrupt the flow of the live event itself.
Seamless Streaming and Reduction of Technical Difficulties
The last thing any event organiser wants is for attendees, especially virtual ones, to experience buffering, out-of-sync audio and visuals, or complete stream dropouts. Partnering with reliable streaming services, conducting rigorous pre-event tech rehearsals, and ensuring high-speed, stable internet connectivity are all vital steps in guaranteeing a smooth AV experience.
Running a hybrid event smoothly
For any event, seamless execution ensures that attendees leave with a positive impression. Here's how you can ensure the next event also runs without a hitch.
Registration and Check-In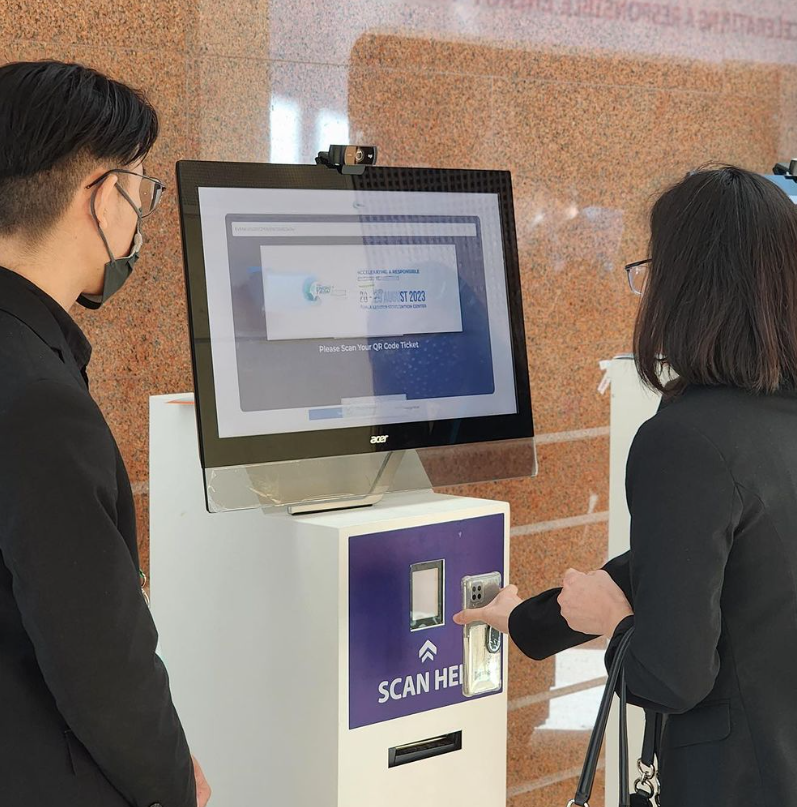 Digital advancements have streamlined the check-in process. Digital check-in counters can significantly reduce wait times and improve the overall experience. Incorporate QR codes for quicker access and attendee tracking. With Evenesis' Facial Recognition Check-In, we can identify attendees within seconds based on their pre-registered images. This not only makes the process more efficient but also reduces paper waste, in line with the sustainability theme.
On-Site Event Management and Coordination
Managing an on-site event is a complex task, requiring synchronisation between various teams. Add the virtual component, and the coordination required multiplies. A central command centre overseeing both on-site and virtual logistics can ensure smooth sailing. Constant communication between the on-site team and the virtual platform team is crucial.
Real-time Monitoring
Having a dedicated team overseeing the virtual attendees' experience is vital. This team can address technical issues promptly, answer queries, and ensure that event content and delivery are synchronous for both in-person and online audiences. They act as a bridge, ensuring both audiences have a parallel experience.
Feedback loops
Real-time feedback during the event can be invaluable. Incorporate polls or quick surveys at the end of sessions. This feedback can help adjust and tweak any subsequent sessions, ensuring the event remains responsive to attendee sentiment.
Post-event evaluation and analysis
Once the curtains come down, the real work begins.
Data Analysis & Reporting
The hybrid format's advantage is the wealth of data it offers. Evaluate metrics like attendee numbers, session popularity, engagement levels, and more. This analysis can provide insights into what worked and what can be improved, crucial for refining future events.
Gathering Attendee Feedback
A deeper dive into the attendee experience can be gleaned from post-event surveys. Encourage attendees to share their experiences and feedback on sessions, speakers, tech platform, and overall event format. This feedback is a goldmine of information, pointing towards areas of improvement.
Improving Future Hybrid Events
Continuous improvement should be the goal. Use the data and feedback gathered to refine and enhance subsequent events. This iterative approach ensures your events remain relevant, engaging, and successful.
Future Trends in Hybrid Events
Hybrid events are more than a fleeting trend—they represent the future of gatherings in a more connected and sustainable world. But what can we expect as this industry evolves?
Greater Integration of AR and VR: As technology becomes more affordable and accessible, augmented reality (AR) and virtual reality (VR) will play more significant roles in enhancing virtual attendees' experiences. Imagine attending a virtual event where you can "walk" through booths using VR or interact with 3D objects using AR.
Customisable Attendee Experiences: With advancements in AI and data analytics, event platforms will offer more personalised experiences. Attendees might receive session suggestions based on their interests or be matched with other participants for networking based on their professional backgrounds.
Sustainable Tech Innovations: Sustainability will move beyond just reducing travel. We'll see more eco-friendly tech solutions, like platforms running on green energy, sustainable virtual swag bags, and more.
Global Collaboration: With the barrier of geography reduced, more events will see collaborations between organisations from different parts of the world, leading to truly global events.
Hybrid Event Specialisations: As the hybrid event market grows, we'll likely see companies specialising in niche areas be it tech, content delivery, or audience engagement.
Showcasing real-world success stories–How does a hybrid event look like?
TNB Corporate Identity Launch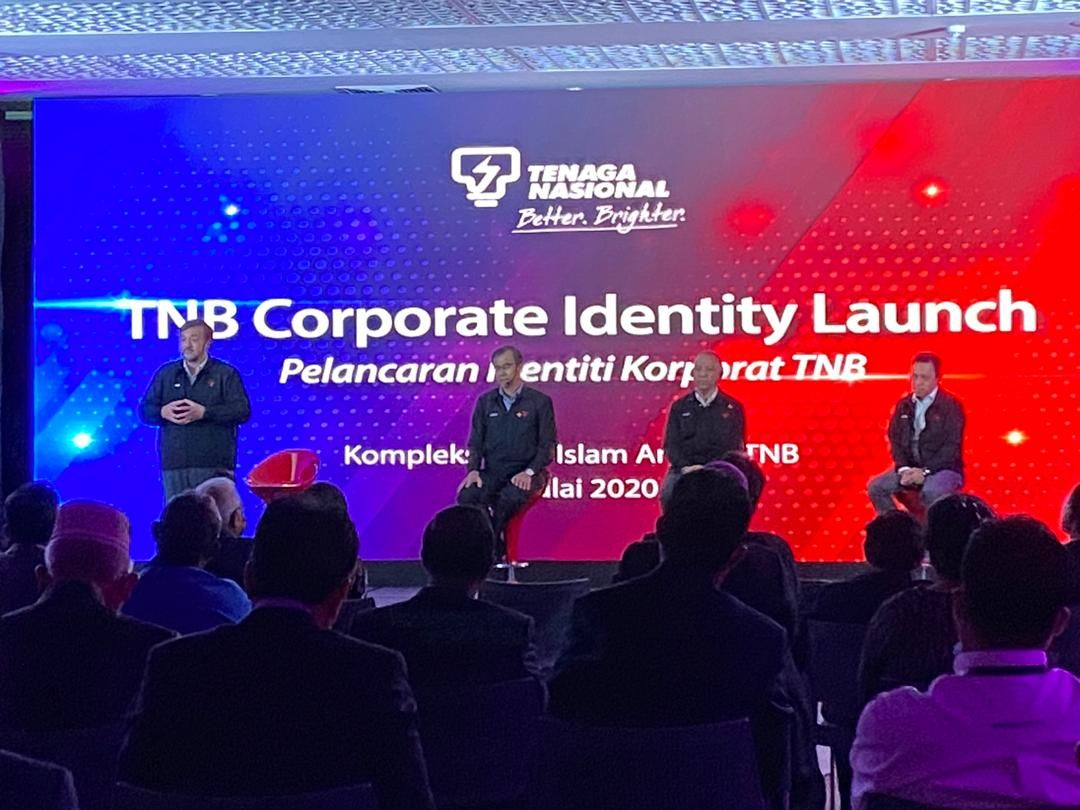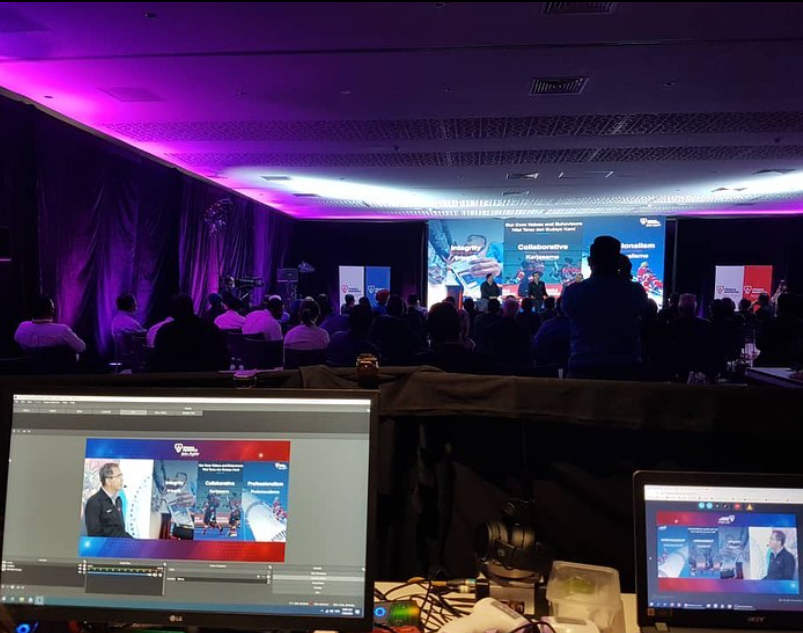 Take, for instance, the case of the TNB x Evenesis event in Malaysia. This event showcased the seamless integration of in-person and virtual components, setting a benchmark for hybrid events in the region. Drawing from such real-life instances can provide valuable insights and best practices for planners looking to venture into hybrid events.
Evenesis and the MBAN Summit 2022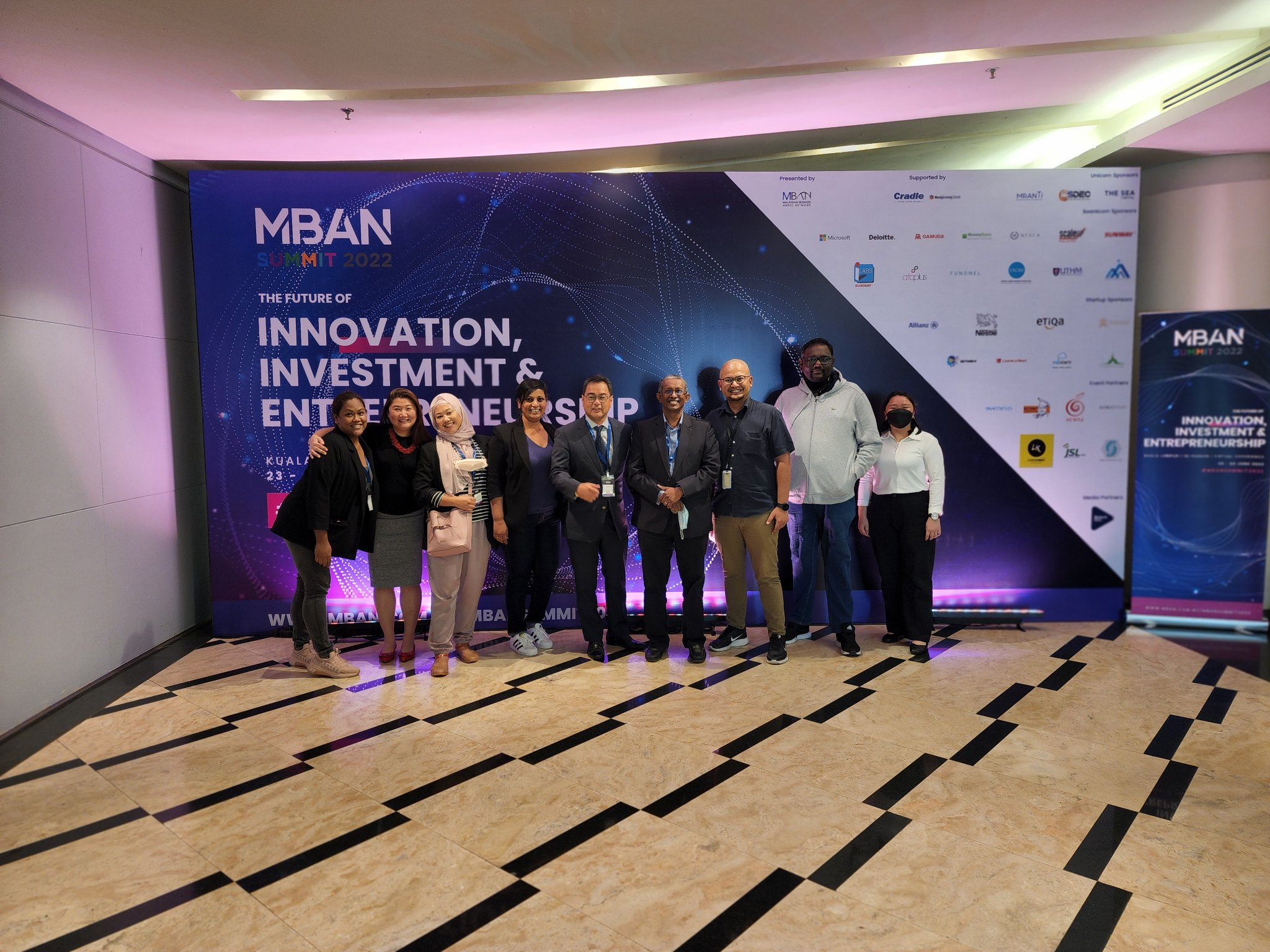 Another prime example would be the MBAN Summit 2022, organised and presented by Evenesis; the Summit represents more than just a gathering; it exemplifies the confluence of virtual and physical realms.
During this summit, the attendees are treated to an exploration of how to optimise their investments while being introduced to the innovative startups destined to be tomorrow's trailblazers.
Drawing inspiration from such pivotal events underscores the importance of a proficient team adept at hybrid event intricacies. In steps Evenesis, providing meticulous solutions tailored for these multifaceted gatherings, ensuring not just functionality but an immersive experience for every participant.
Conclusion
As the world moves towards greater connectivity, inclusivity, and sustainability, hybrid events will become the norm. Marrying the physical and virtual, they offer unparalleled flexibility, reach, and engagement. For organisations and brands, they provide an opportunity to position themselves as forward-thinking, eco-conscious, and global. And as event technology further advances, the possibilities are endless. The future of events is hybrid!